6850 - The Blickenstaff special
Home
Last update:
9/14/12


In about 1968, Foster Blickenstaff of Hagerstown, MD, known fondly to family and friends as "Blick",
began gathering parts to build a Stanley.
He acquired a 735 engine & rear end, which had been adapted to hydraulic brake backing plates from a '46 Chrysler,
possibly from Amos Miller in Hagerstown. (And a master cylinder from a '63 Chevrolet.)
He found a steel frame and front axle with left-hand drive, and acceptable-looking wheels to fit it.
He found a hood from a Model H5, and a seat from a Model 60,
and gathered up the rest of the pumps, automatics, and valves - genuine factory parts.
He found a Stanley serial number plate carrying number 6850. This number falls in the 1913 range.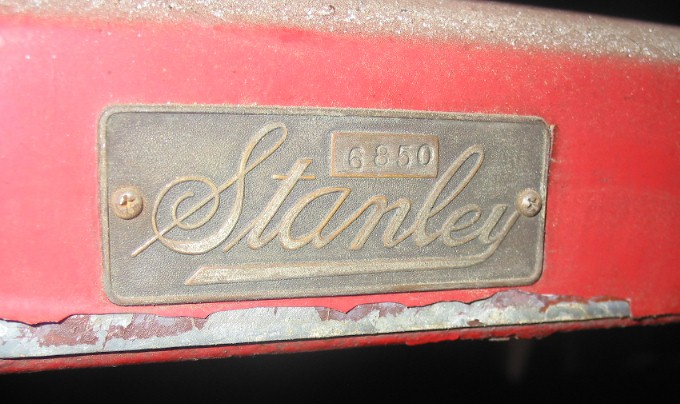 Fig. 1. Stanley serial number 6850



Carl Amsley was a good friend and lived not far away, so it's likely that some parts came from him.
The serial number plate may be an Amsley reproduction.
Then he built the rest of a 2-passenger roadster body.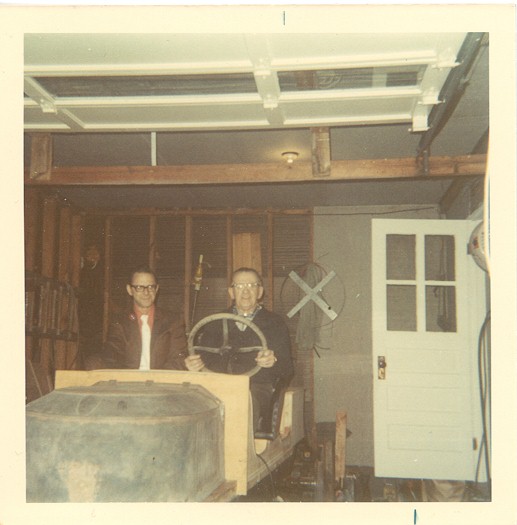 Fig. 2. Blickenstaff in the "driver's seat"



It's a well-proportioned body, strongly reminiscent of a 1911 Model 62.
But the rear section of the body houses a 50-gallon water tank!

By 1969, the car was assembled, with presumably freshly-made steel fenders,
as that pointed bill doesn't match any car I've seen. They could well have been
made by Keebaugh, not far away in Chambersburg, PA.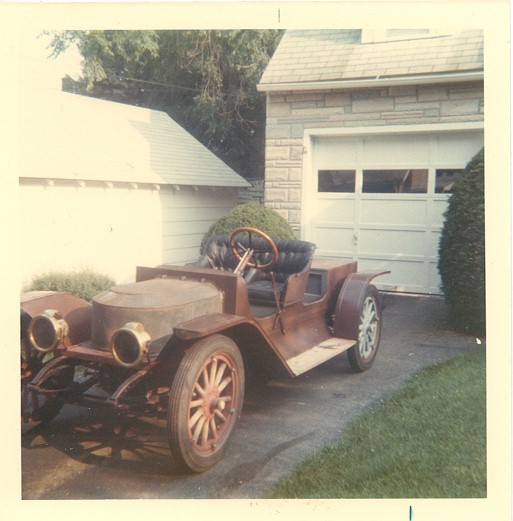 Fig. 3. 1969, no surface work yet



Note the same pale splotch on the front of the hood as in the previous picture.
Notice also that the firewall at this point has square corners, even though there's a normal rounded cowl behind it.
He went on to drive the car for a few years, getting a full coat of primer on it during that time.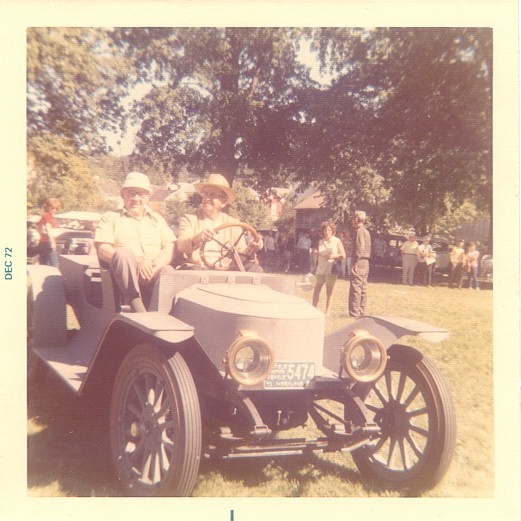 Fig. 4. September 1972, Boonsboro, MD homecoming



Note that the firewall corners are still square, and there's no passenger-side toolbox.
By some time in the following year, it was completely painted, cream undercarriage & red body with black accents.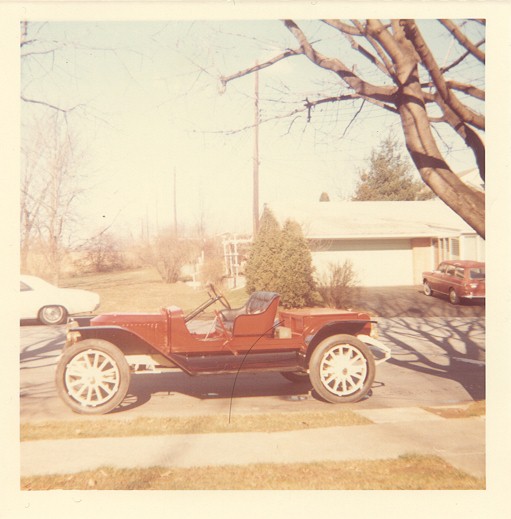 Fig. 5. 1973, possibly spring



Note that by this time, the firewall panel was trimmed to a curve to match the cowl.
Note also the empty running board, lack of cowl lamps or mounts, and lack of horn.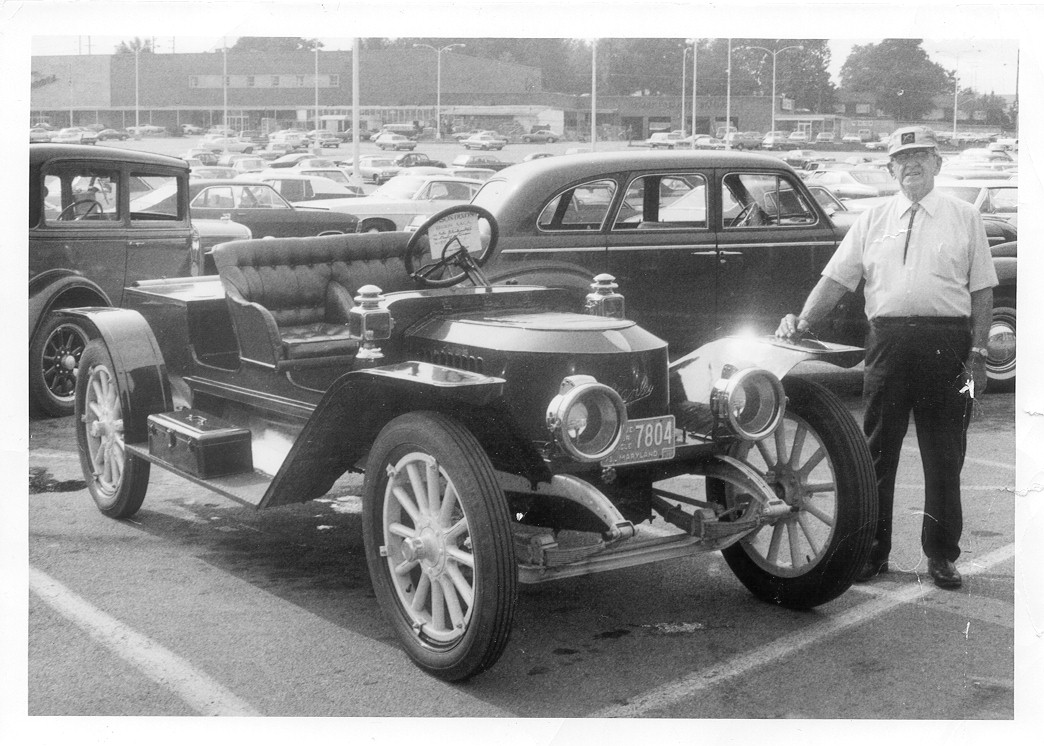 Fig. 6. This wonderful picture was taken in 1973 at a small meet in Hagerstown. Proud owner Blickenstaff in attendance.



Note the cowl lamps now in place.

By 1975, the acetylene tank was in place, and there was a horn.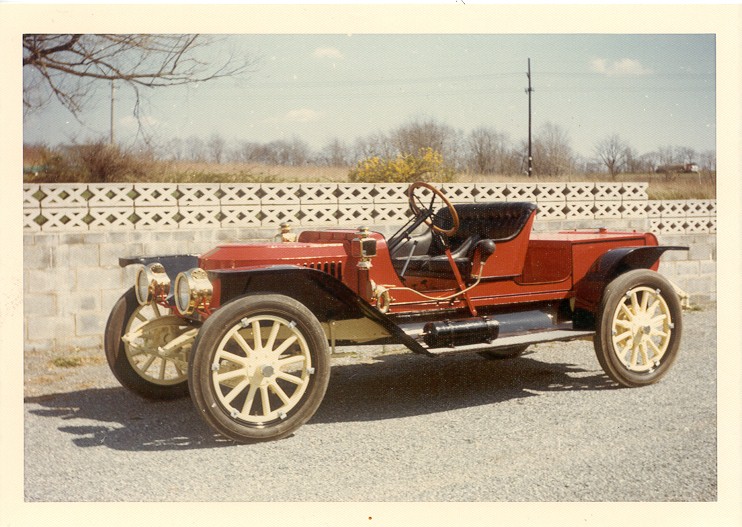 Fig. 7. 1975 - the formal portrait



Note that the running board contains only the acetylene tank. The car looked very sharp at this time!
Here's a picture of a 1911 Model 62 for comparison (reversed to simulate left-had drive) -
I think Blickenstaff did a respectable job.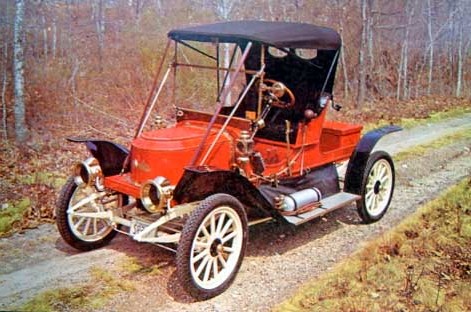 Fig. 8. 1911 Model 62, #5980, at the J. K. Lilly, III Automobile Museum in Sandwich, MA

The Model 62 is a 10hp car, and of course Blick's car is 20hp, since it has a condensing powerplant.

The car went on to participate in 2 eastern steam tours, the first in Strasburg, PA in 1977.
It was registered as "1911 Stanley Mod."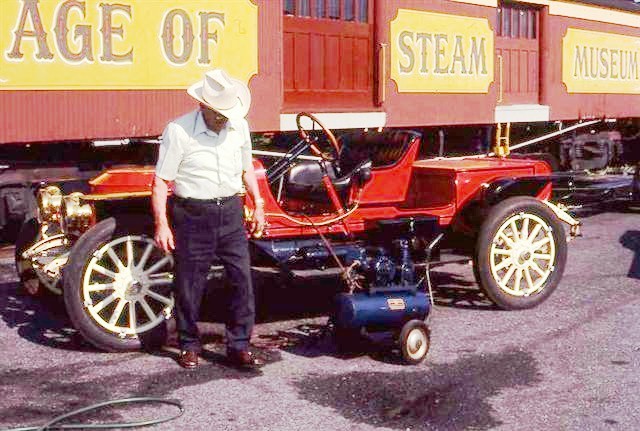 Fig 9. 1977 Strasburg tour



Note the large box added to the running board. It held a propane bottle for the pilot.
It appears that, earlier, there was a vertical pilot tank under the driver's seat.

Blickenstaff was active in the Mason-Dixon region of the AACA, attending meets and tours.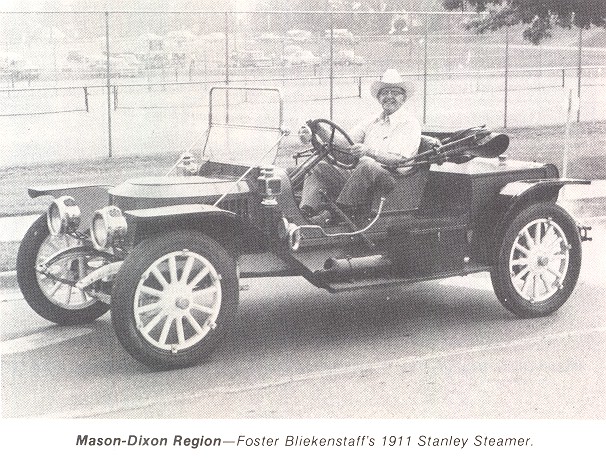 Fig. 10. 1978 Mason-Dixon activity (last name misspelled)



Note that apparently early in '78, he added a windshield and top. Pretty much ended any chance of
grabbing a ride on top of that water tank unless the top was up.
It also appears that by this time the boiler sight glass had been moved from a recess in the center of the floor
to outside the cowl, just behind the horn. Visibility would have been poor at its original location.
Note also the position of his left foot - the floor doesn't leave much of a place for it, and you
kind of have to drive that way. (Maybe it needs a Mercer-style outside stirrup.)

The 1978 steam tour was based at Amsley's in St. Thomas - just around the corner from Blick.
Once again, he registered his car as "1911 Stanley Mod."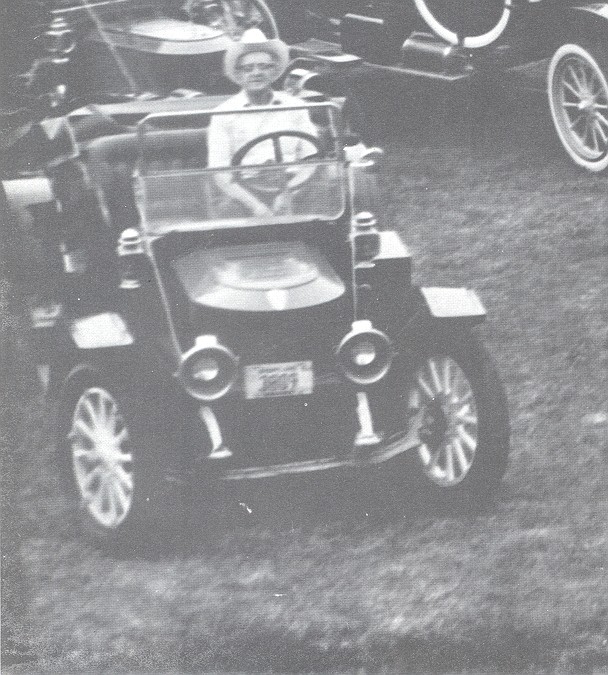 Fig. 11. June 21, 1978 - St. Thomas tour



One attendee on this tour recalls that the car's performance was pretty satisfactory. In fact, he said
"Blickie would take that car out on the highway and race motorcycles with it."

But someone else attended that tour, without a car - Joseph Douglas Tindall, of St. Petersburg, FL.
He was also apparently pleased with Blick's car, and acquired a Florida title for it on Oct. 10, 1978.
Foster Blickenstaff had owned a few steamers before this one, but this was his last.
After this car left, his interest turned to clocks.

No information has yet surfaced about Tindall's ownership.

But on June 15, 1981, the title was transferred from Tindall to Ed Gallant, of Gilmanton, NH.
Little information has surfaced about Gallant's ownership and use of the car.
He and his wife Bernadette took it to the 1985 First International Rock Island steam meet, in Quebec.
And his last registration was dated 1987. (Those plates are still with the car.)
Some time after that, the burner was removed from the car, for some other purpose.
And Mike May noticed at some point that the hood was a genuine H5 hood, so he had a duplicate made
and negotiated with Gallant for a swap. The new hood was never painted or installed.
After Gallant's passing, the car was acquired in 1994 by Coburn Benson, of Limerick, ME.
Benson left the car stored and untouched until 2007.
When he was ready to sell it, Pat Farrell learned of it and kindly let me know.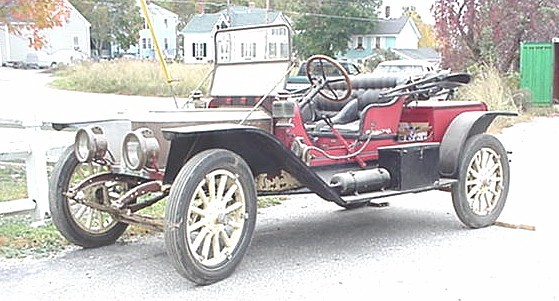 Fig 12. 2007 - for sale



Note that the car looks essentially identical to its appearance in Fig. 10, in 1978.
I quickly drove up to Maine, looked the car over, and purchased it.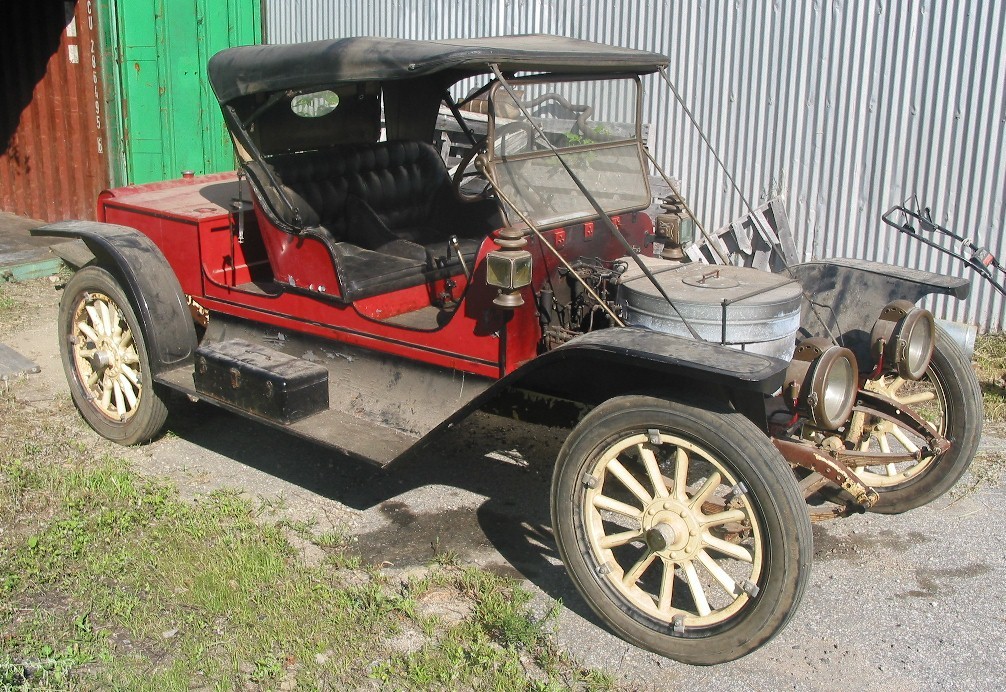 Fig. 13. 2007 - bought



Needs plenty of work, but is essentially complete. (Ben tossed in some burner parts to get me started.)

Tom Marshall was kind enough to make his complete towing rig available to me for transport from Maine to Mount Joy,

Since that time, I've been taking things apart. The goal is simply to make it operational, and leave all cosmetics for later.
As of this writing:
- the burner is complete (finished by Don Bourdon)
- the boiler has received 3 wraps of piano wire
- all pumps and automatics have been overhauled (by John Packard)
- brake drums turned, shoes relined, new master cylinder & wheel cylinders, all installed and adjusted
- pump pit piping mocked up

2010 Maine Steam Tour or bust!

---------------------------------------------------------------------------------------------------------------------------------
2010 Maine Steam Tour - no bust!!!
3 days out, 3 days back under its own power - about 150 miles.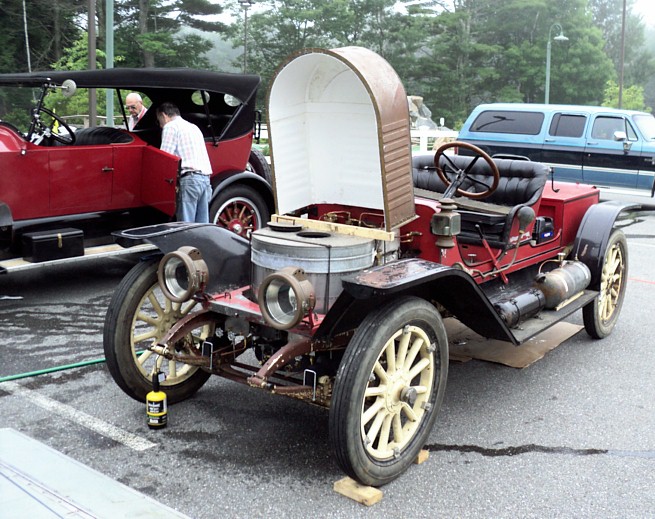 First day - firing up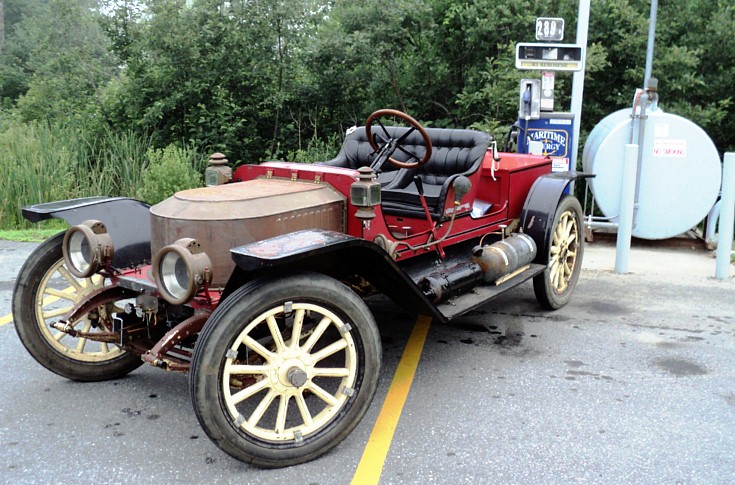 First day - fueling up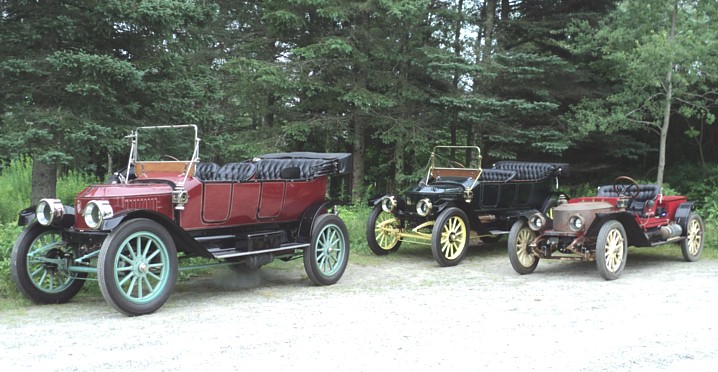 Hangin' with the Auburn Heights friends at the Olson House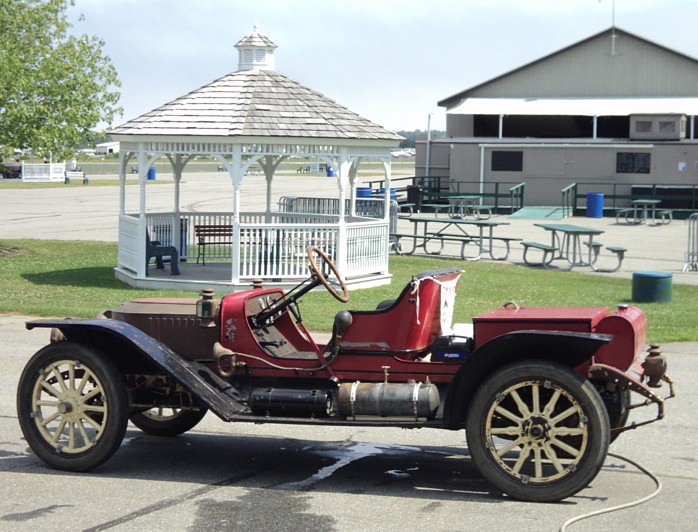 Taking on water at Owl's Head Transportation Museum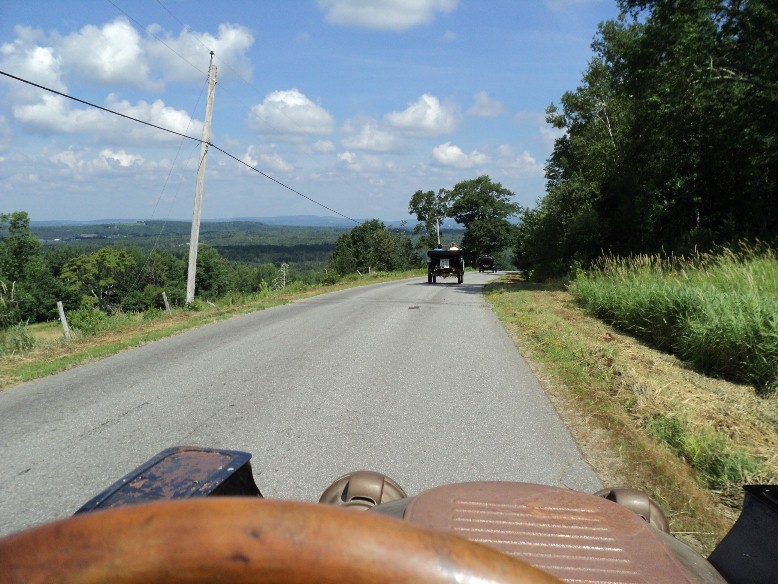 On the road again...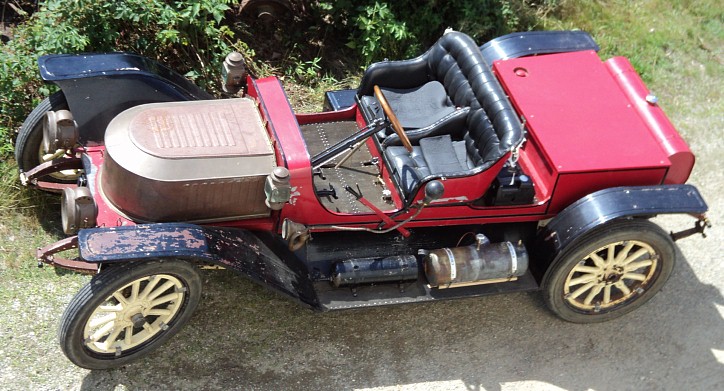 Unusual view from the third floor of the Firefly fire truck restoration shop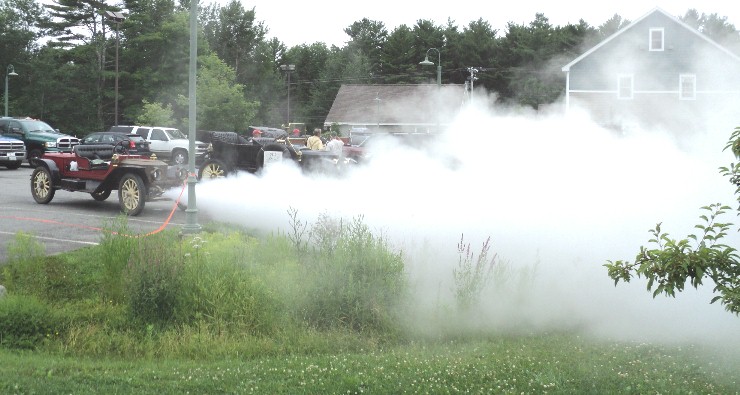 Blowing down on the last day

---------------------------------------------------------------------------------------------------------------------------------
Winter 2010-11
I pulled off all the removeable body parts and took them for smoothing and painting.
Had to also get rid of that odd beak on the front fenders - just doesn't match any Stanley.
It will return, with a 1914 Stanley blue body and wheels, and black fenders & undercarriage.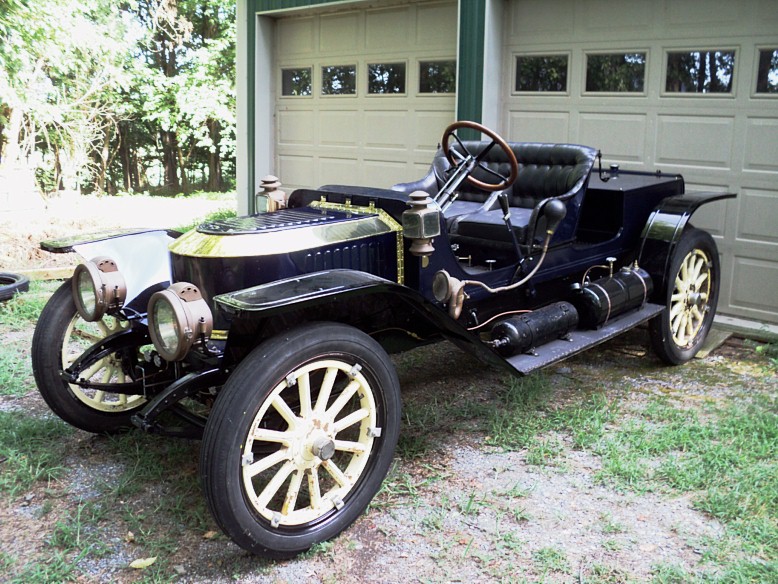 Ready to load for the tour!

2011 Mount Washington Steam Tour
4 days out, 4 days back under its own power - about 275 miles.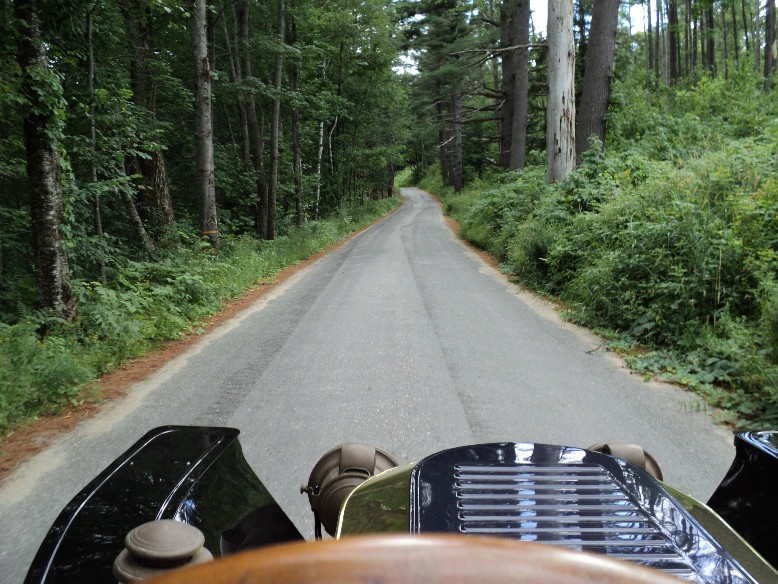 Loafing through the New Hampshire woods... chuffing along at a steady 525 psi with the fire partly on.
---------------------------------------------------------------------------------------------------------------------------------
2012 Stowe, VT Steam Tour
4 days out, 4 days back under its own power - about 300 miles.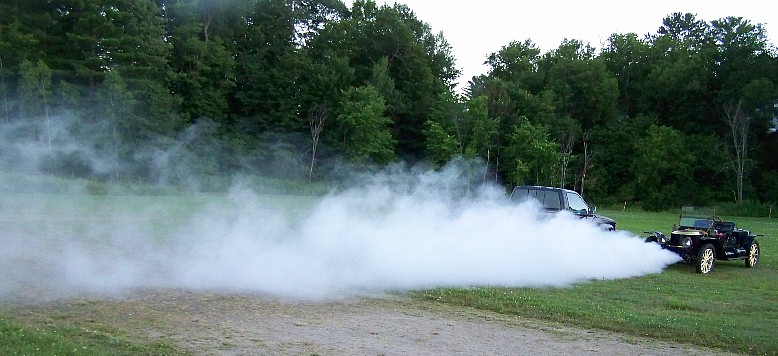 Blowing down on Monday.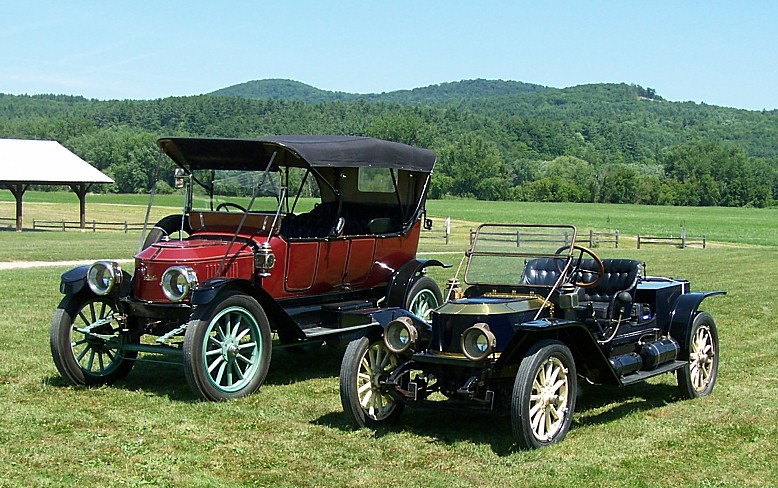 The tallest and shortest non-condensing Stanleys - #6524 on the left.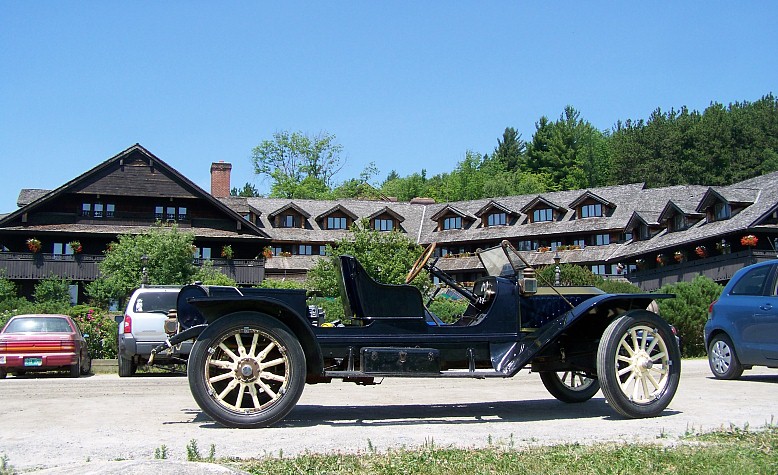 At the Von Trapp Family Lodge, on top of the 2-mile hill - takes one finger to go up, 2 legs and an arm to come down.

-----------------------------------------------------
Thanks for all pre-1977 photos to Foster Blickenstaff's daughter Kathleen Keckler, and her husband Maynard.
Thanks for the 1977 Strasburg photo to Tim Martin.